Barcelona Easter Week – What to do and see
Welcome! You are on the DayTripsBarcelona.com blog.
Our TOUR website is http://www.daytripsbarcelona.com
Our BLOG address is http://www.daytripsbarcelona.com/barcelona/
Contact us here http://www.daytripsbarcelona.com/contact_us.html
Barcelona Easter Week – What to do and see
Things to do in Barcelona Easter 2017 and on Good Friday. What to do and where to find Easter parades and Good Friday processions in Barcelona. Easter week in Spain is called "Semana Santa" which means "Holy Week."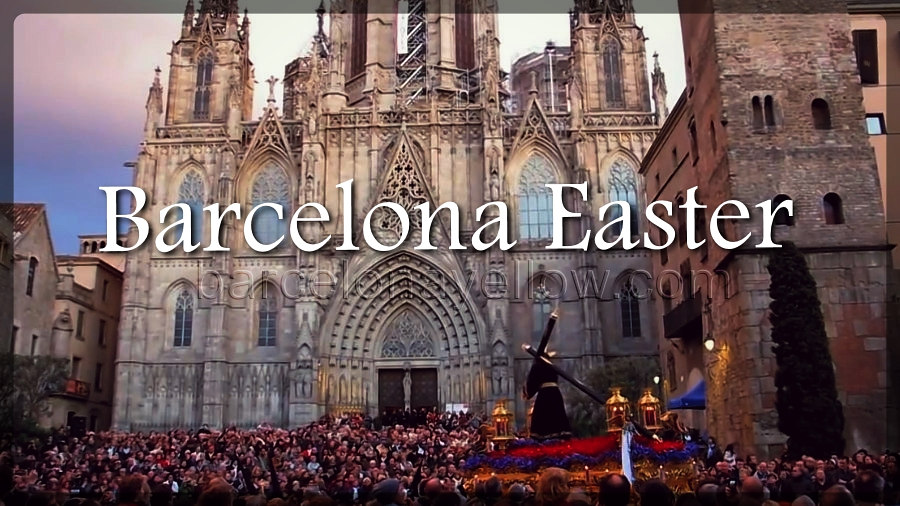 Barcelona Easter – Semana Santa
The Easter week starts on Palm Sunday which is called "Diumenge de Rams" in Catalan" and "Domingo de Ramos" in Spanish. Palm Sunday is the Sunday before Easter week. TWEET THIS PAGE
Dates Easter 2017 Barcelona.
Easter is a moveable feast and falls very late in 2017. In 2017 Easter starts on Palm Sunday on Sunday 9th April 2017. There are parades and processions in Barcelona on Palm Sunday.
Barcelona Good Friday – Viernes Santo
Most Easter parades are on Good Friday – called "Divendres Sant" in Catalan and "Viernes Santo" in Spanish. Good Friday in 2017 is on Friday 14th April 2017. Easter Sunday is 16th April 2017 and Easter 2017 ends on "Lunes de Pascua" Easter Monday on Monday 17th April 2017 and is also called "Diá de la mona de Pascua" which is Easter "mona" cake day. Good Friday and Easter Monday are public holidays so most shops in Barcelona are closed, but restuarants and museums are open.
Visit this Barcelona Easter Guide page to read about Barcelona Easter week and Easter processions and traditions.
Small group tours Barcelona Easter 2017.
Easter is a very busy week in Barcelona,so we recommend that you book day tours and private tours well in advance if possible
Contact www.daytripsbarcelona.com